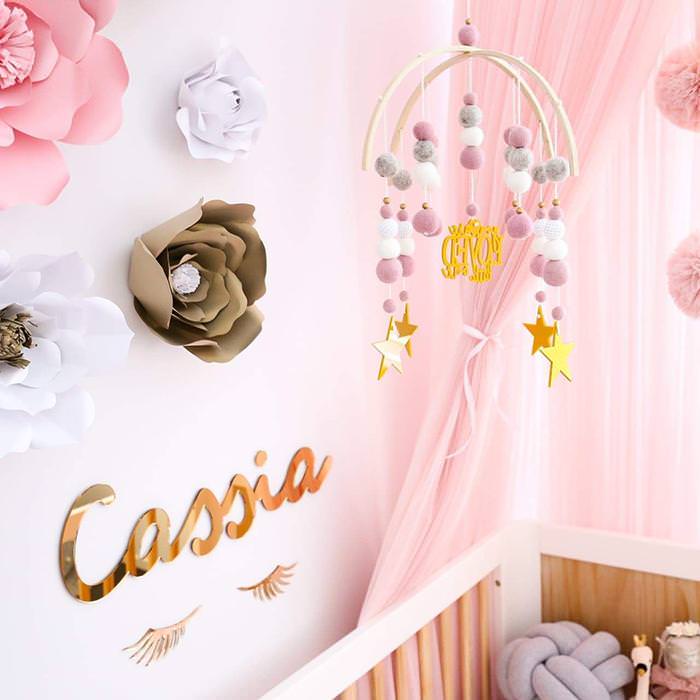 Creating your little ones nursery is a fun time but usually one of two things happen- You're like me and you have a vision however you don't know where to start or you literally don't know where to start because it's all a little overwhelming.

So here are my top 5 products in Cassia's Nursery:

1) Cassia's name plaque – If you want that one item that'll make your nursery or little ones room pop I would say a name plaque should be at the top of your list. The first thing I am drawn too when I walk into any nursery or kids bedroom is instantly their name plaque. Whether you purchase from us or from another store make sure you secure with 3M command mounting strips. Last thing you want is for it to fall off the wall and break! Double sided tape and blue tac won't do the trick.

Shop the look: https://cmcgold.com.au/products/large-name-plaque

2) Felt ball mobile – I started making mobiles because plastic mobiles are just blah! I wanted colour and different textures and sizes etc. As time has gone on I have created many different styles and I love that as a newborn Cassia would lay in her cot for 10 minutes just staring at her mobile. It was one of the first things that she ever actually looked at and focused on. Now 7 months down the track i can't get the kid to sit still for 10 seconds let along 10 minutes, but it makes her room look pretty!

Shop the look: https://cmcgold.com.au/collections/felt-ball-mobiles

3) Canopy – Whether you have a baby girl, baby boy or are creating a gender neutral nursery a canopy is another one of those items you are instantly drawn too when walking into a room. They are so versatile as a baby they can be hung over the cot, as your baby grows and their room transforms into a big kids room they look just as good in the corner of a room with some beautiful pillows and books to create a little reading nook. Our canopy is from Pebbles.Baby I highly recommend. The canopy quality is out of this world and the customer service is fantastic. So many beautiful colours to choose from also.

Shop the look: https://www.instagram.com/pebblesbaby.store/

4) Change Mat – Of course we all want the beautiful items for our nurseries but when it comes to practicality this change mat is at the top of the list. By far the best design I have come across. Half is soft and in a mink material for bub's head and the other half is wipe able incase of any accidents. I love mine and would never buy any other brand of change mat cover.

Shop the look: https://www.instagram.com/bubsfirst/

5) Lily Pilly Toy Basket- If there is one thing that you'll get 1 million of it's soft toys. Especially if bub is your first you will be inundated with soft toys and like me if you've got nowhere to put them my top pick is my Lily Pilly Baby Bobble Basket, I have the largest size and it's full of the soft toys people have gotten for Cassia. Once a week I change over the toys on her playmat so she still gets to play with them all but they are concealed in a beautiful felt basket.
https://www.lilypilybaby.boutique/

Styling is so much fun, I Love styling my products and other businesses. If you ever need help choosing a mobile or colour scheme for your nursery I am always happy to help!

Happy styling

xxxxxxx