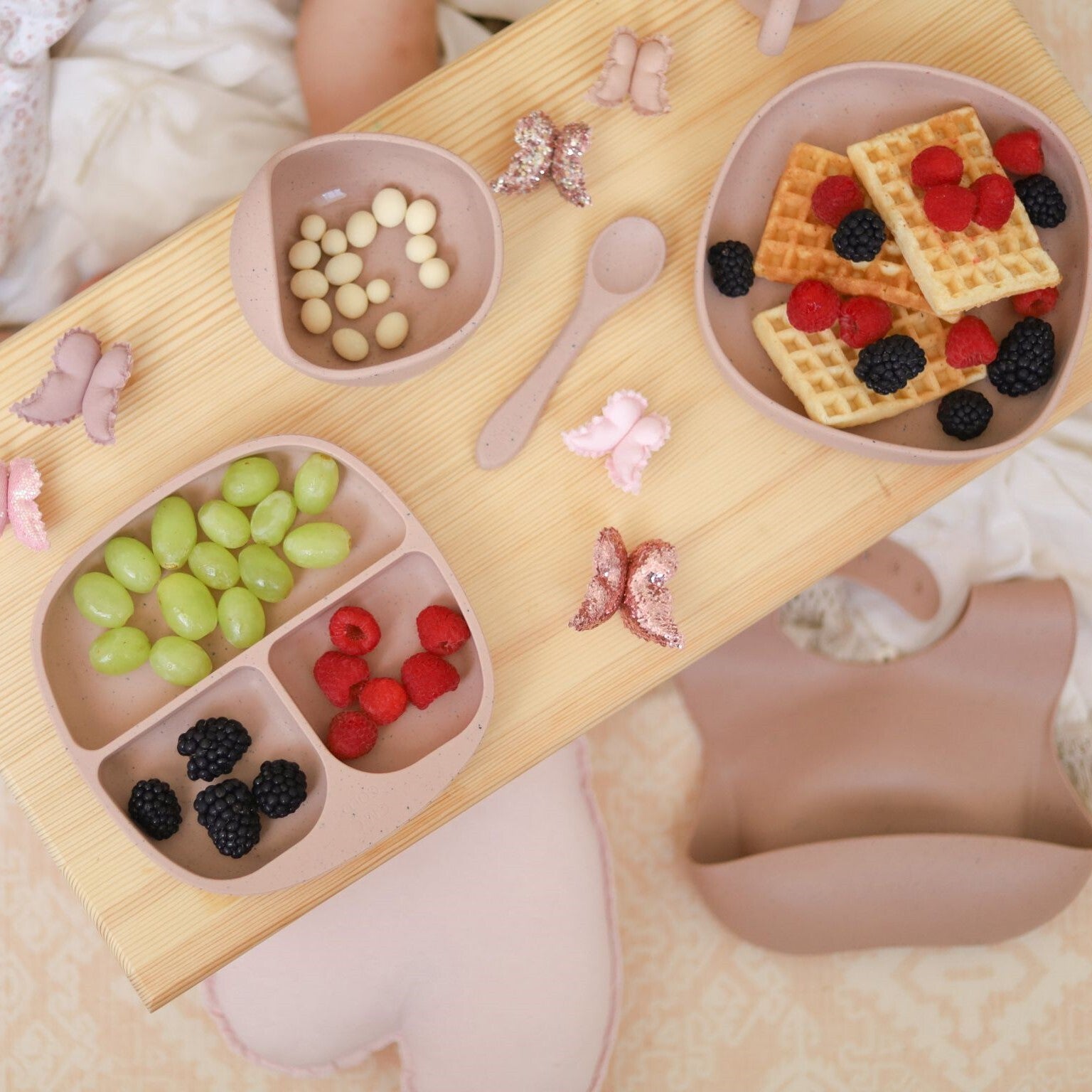 Mealtime with your little ones can be quite an adventure, but fear not! CMC Gold has a fabulous solution to make mealtime easier and more sustainable: silicone baby feeding sets. Yes, you read that right, silicone. These sets are durable, safe, and versatile. Plus, they come in all sorts of designs and colours, making mealtime a feast for the eyes too. 
But how do you choose the right one for your child? Fear not, our dear friends. We've got you covered. Let's dive into the benefits of silicone feeding sets and how to choose the perfect one for your little munchkin.
The Benefits of Silicone Feeding Sets
Durability
When it comes to mealtime with your little ones, durability is key. And let me tell you, a silicone baby feeding set is as sturdy as a knight's armour! Not only can these things handle the inevitable food flinging and dropping, but they're also resistant to scratches, cracks, and breaks. This means you can use them meal after meal, day after day, and they'll still look and perform like new. Whether it's a silicone baby bowl, a silicone baby cup, or a silicone baby spoon, these sets are built to last. So go ahead, and let your little ones go wild at mealtime because, with a silicone feeding set, you've got nothing to worry about.
Safety
Safety is always a top priority for parents, and silicone feeding sets have got you covered. They're made from a non-toxic, BPA-free material that won't leach harmful chemicals into your child's food. Plus, they're free from phthalates, lead, and other toxic substances that can be found in some plastic or metal sets. So whether your little one is drinking from a baby silicone cup or eating from a silicone divided plate, you can rest assured that they're safe from harmful chemicals.
Convenience
Let's face it, mealtime can be messy and time-consuming, but silicone feeding sets make it a breeze. They're lightweight and easy to handle, making them perfect for little hands. Plus, they're microwave and dishwasher-safe, making cleaning up a snap. No more scrubbing and soaking metal or plastic plates, cups, or spoons. With a silicone feeding set, you can focus on spending quality time with your little one instead of cleaning up the aftermath.
Versatility
Silicone feeding sets are incredibly versatile, perfect for various mealtime situations. They come in all shapes and sizes, from baby silicone bowls and cups to silicone divided plates and utensils. This means you can choose the perfect set to fit your child's age and developmental stage. And if you're on the go, silicone feeding sets are lightweight and easy to pack, making them perfect for picnics, playdates, and trips to grandma's house.
Design
Who says mealtime can't be stylish? Silicone feeding sets come in various colours and designs, making them functional, fun, and aesthetically pleasing. From bold and bright to soft and subtle, there's a silicone feeding set to match your child's personality and your own personal style. 
Choosing the Right Silicone Feeding Set for Your Child
Mealtime is an integral part of your child's day, and choosing the right silicone feeding set can make all the difference. Here are a few things to consider when picking out the perfect set for your little one.
Your Child's Age
First and foremost, you'll want to consider your child's age. If you have a baby, you may want to opt for a silicone baby cup or a silicone divided plate to make mealtime a little easier. As your child grows, you can upgrade to a larger silicone dining set or even a baby silicone dinner set with utensils.
Type of Feeding Set
There are various silicone feeding sets to choose from, so it's important to consider your child's needs. If your child is just starting out with solids, a silicone baby spoon and a silicone divided plate might be the way to go. If you have a toddler, a full silicone dinner set with utensils might be more appropriate. And if you're on the go, a portable silicone feeding set with a carrying case might be the perfect solution.
Material Quality
When it comes to silicone feeding sets, not all materials are created equal. Look for sets made from high-quality, food-grade silicone that's free from harmful chemicals like BPA, phthalates, and lead. This will ensure that your child's food stays safe and healthy.
Ease of Cleaning
Last but not least, consider the ease of cleaning when choosing a silicone feeding set. Look for sets that are dishwasher-safe and easy to clean by hand. This will save you time and energy when it comes to cleaning up after mealtime.
Experience Stress-Free Mealtime with High-Quality Silicone Feeding Sets from CMC Gold!
When it comes to mealtime with your little ones, a silicone feeding set can make things easier, safer, and more enjoyable for both you and your child. With the right set, like a silicone dinner set or a baby silicone cup, mealtime can be a fun and stress-free experience for everyone involved. So why not give it a try? At CMC Gold, we offer a wide range of high-quality baby silicone dinner sets to choose from, so you're sure to find the perfect one for your child.